free diving
free diving
Exploring the depths
The FreeDiving Center is located on Remaiolo Beach, on the Costa dei Gabbiani, within the Tenuta delle Ripalte resort. Here, you can organize your freediving course in an unforgettable natural setting.

The method
Freediving is the most natural way to go underwater and invites us to adapt to an unfamiliar environment. Through the combination of proper training with the "Of Breath & Mind" method that combines Breath + Mindfulness work and relaxation, we can make freediving a unique, fun and safe experience. A way of connecting with ourselves, the sea and life.

Courses
During the SSI-taught (Scuba Schools International) freediving courses, there will be classes in the pool and in the sea, where theoretical and practical topics will be developed following the Of Breath & Mind method: breathing techniques, yoga, mental training, meditation and relaxation, aquatics, equipment, physiology, compensation techniques, safety, buoyancy in water and capsizes, static and dynamic freediving, descents with and without equipment down the cable with the constant weight technique.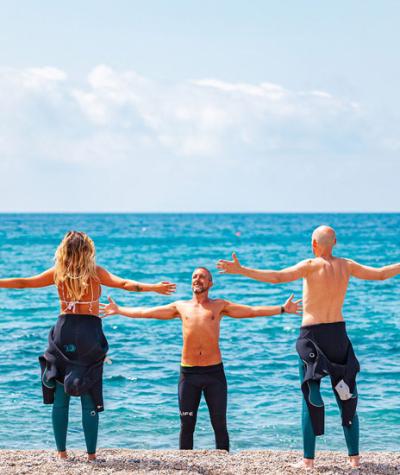 The center is open from May to September and, in addition to overnight accommodations, offers:
Individual and group freediving courses/training
Freediving courses for children
OB+M (Of Breath and Mind) PROGRAM FOR APNEA
Snorkeling
Boat trips
Yoga - Pranayama – Mindfulness
Aquatics
FreeDivingelba - Freediving Center Costa dei gabbiani - Tenuta delle Ripalte (Capoliveri) Elba Island